Here's a short list of my favorite "Old School" Direct Marketing books.
They include books on Advertising, Direct Marketing, and even Copywriting.
And most of them were written decades ago by a bunch of "Old Geezers", including several that were written in the 1920s.
Some of you may be wondering why an Internet Marketer would even care about these "Old Geezer" books when all of them use old school print ads and direct mail pieces as examples and case studies (which really were the only choice when these books were written as far back as the 1920s).
The answer is quite simple:
There's a reason why the most successful Internet Marketers I know, including myself, are lifelong students of Direct Marketing, that's because…
Internet Marketing IS Direct Marketing.
And these books were written by the Masters of Direct Marketing!
I've been enjoying these books for so long that I've had to buy new copies of them repeatedly over the years because I either lost my copies, wore them out, or someone borrowed a copy and never returned it.
The good news is that most of these "Old School" books can be found at any online bookstore like Amazon.com for less than twenty bucks.
Here's a short list of my favorite "Old School" Direct Marketing books:
1. How To Make Your Advertising Make Money by John Caples
2. Tested Advertising Methods by John Caples
3. My Life In Advertising by Claude Hopkins
4. Scientific Advertising by Claude Hopkins
5. The Robert Collier Letter Book by Robert Collier
6. How To Write A Good Advertisement by Victor O. Schwab
7. Billion Dollar Marketing by Maxwell Sackheim (compilation)
8. The 100 Greatest Advertisements 1852-1958: Who Wrote Them and What They Did by Julian Watkins
9. Breakthrough Advertising by Eugene M. Schwartz
Just added:
10. Making Ads Pay: Timeless Tips for Successful Copywriting by John Caples
(The next two haven't been around as long as the others, and started out geared towards Mail Order, but have evolved over the years and I consider them modern day classics even though their "online" marketing methods may be a little outdated)
11. Direct Marketing: Strategy, Planning, Execution by Edward Nash
12. Successful Direct Marketing Methods by Bob Stone
These 12 books are more than enough to get you started and to help you start an "Old School" Direct Marketing reference library of your own.
I own hundreds of other books, and I can't honestly say that I've read every single page of every single "Old School" book I own, because I haven't.
However, I can honestly say that I keep these books and dozens of others just like them next to my desk and I refer to them for inspiration whenever I need to write headlines, ads, or sales copy of any kind.
These books are pure gold and I hope you enjoy them!
And before I forget…
Here's the best "learn how to write great copy" training program out there.
Jeff Johnson
P.S.
Here's a few tips on how to save hundreds of dollars, even thousands of dollars when building your very own "Old School" Direct Marketing Reference Library:
Some of these books are in the "public domain" which means anyone has the right to publish them and charge whatever they'd like. So before you buy the first copy you see… search around and find the best deal. You'd be surprised how easy it is to find alternative copies for pennies on the dollar.
Don't forget to check Amazon.com and even ebay for used copies in great condition; you can save a bundle on each book that way.
Since some of these books are in the "public domain" you may be able to find free PDF copies of them on the Internet that are perfectly legal copies for you to own.
Amazon has dozens of these types of "Old School" books in their Kindle store, and they either give them away for free, or they charge as little as 99 cents (even when they also sell print book versions of the same book for $20 or more). So be sure to check for Kindle versions as well.
Dozens of these types of books are actually out of print and are almost impossible to find so you may see copies of them selling for hundreds of dollars on Amazon or ebay. But don't buy the first copy you find, be sure to search around using some of the tips I offered above.
Here's an example of how you could save up to $403.05on a "Print/Book on Demand' copy of Breakthrough Advertising by shopping around: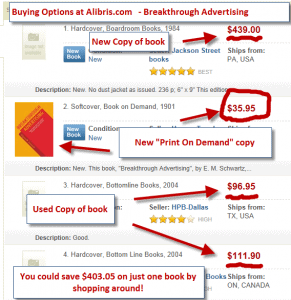 My favorite online bookstore, by far, is Amazon.com. They are pretty much a "one stop shop" for these types of books… New, used, hard to find, out of print, print on demand and even Kindle copies. So I suggest you make your life easy by starting your search at Amazon.com
My final and most important tip is… once you buy these books… Read Them!
They are jam-packed with great ideas and proven swipe copy, including… Headlines, Full Page Magazine Ads, Direct Mail Sales Letters, Classified Ads, and thousands upon thousands of tested, proven ways to make more money with your Direct Marketing.
Remember… Internet Marketing IS Direct Marketing.
And every successful Internet Marketer I know, especially the ones that stick around for the long run, is a lifelong student of Direct Marketing!